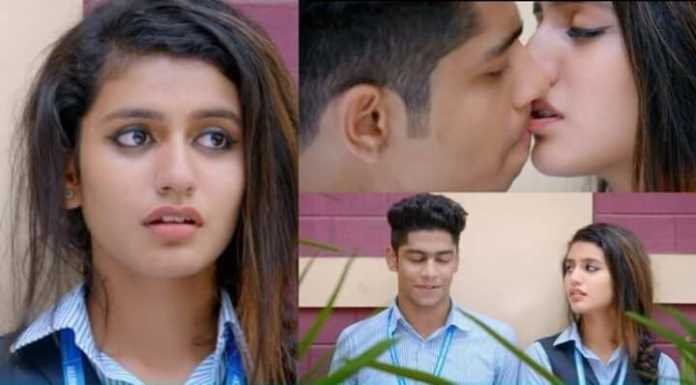 The internet sensation Priya Prakash Varrier is back in the news again! After winning a million hearts with her 'wink', the young Mallu actress has again gone viral but this time because of the LipLock scene. A video has found its way to the internet where actress Priya Prakash Varrier LipLock with Roshan Abdul Rauf. It seems this kissing scene is the part of the upcoming movie 'Oru Adaar Love' in which they are playing the lead roles.
Now, adding salt to the already bleeding wound, Priya Prakash Varrier LipLock with Roshan Video from the movie 'Oru Adaar Love' is receiving negative comments from all corners, and YouTube is getting mounted with more dislikes than likes. It was on February 06, 2019, that the makers of 'Oru Adaar Love' released a sneak peek of the movie, and in the video, we can see the lead hero Roshan Abdul Rauf intimately locking his lips with Priya Prakash Varrier. After the lip-lock, Priya Prakash Varrier can be seen smiling in the cutest manner, but this smile has not gone well with trollers on Twitter, Facebook, and YouTube.
Now once again, Priya Prakash Varrier has become of talk of the town because of lip biting scene After watching, many people have commented that this is the weirdest lip-lock they have ever seen in their lives. Some people even went a step ahead and argued that Priya Prakash Varrier face is expressionless, and she does not deserve to be an actress.
Actress Priya Prakash Varrier fans are also urging these people to wait until the release of 'Odu Adaar Love' so that the acting mettle of the starlet can be evaluated properly. 'Oru Adaar Love Full Movie will hit the screens in both Malayalam and Telugu on February 14, 2019.