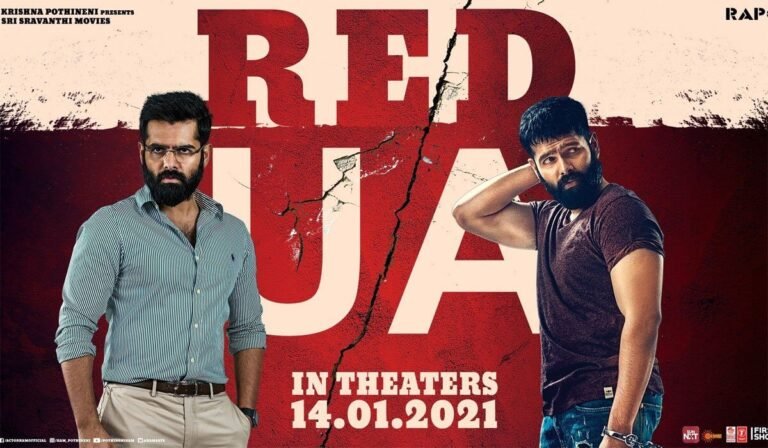 RED Telugu Movie 2021 Starring Ram Pothineni, Nivetha Pethuraj, Malvika Sharma, Hebah Patel, Sampath Raj, and Amritha Aiyer and helmed by Kishore Tirumala has hit the theaters today on 14th January 2021. RED Movie Review and Rating are getting mixed responses from the movie lovers.
RED Telugu Movie Story: Siddharth (Ram Pothineni) is a straight-laced civil engineer who's on the verge of having all his dreams coming true. He has a great housing project in the works and the girl he loves, Mahima (Malvika Sharma) loves him in return. His look-alike Aditya is the exact opposite. A drunkard, womaniser, and gambler to the tee, he's also a smart scammer who loves to con the rich out of their money, only to gamble it all away in card games. A murder at a beach house lands these two in jail but with insufficient evidence, the police department only has 48 hours to crack this case. What happens next is what RED is all about.
Hero Ram Pothineni exhibits similar shades and is presented in a similar manner as Ismart Shankar. The first half of RED looks bland and uninteresting. The first song with Hebah Patel is a treat for the masses. The love story lacks freshness and is quite boring. The interval episodes are quite interesting and keep the audience guessing. On the whole, the first half of RED is neither impressive nor disappointing.
The second half of RED is focused on investigation and it happens on a serious note. Ram Pothineni thrills the audience in dual roles but the film has unwanted stuff throughout. The flashback episodes are a huge letdown for the RED movie. It doesn't justify the plot or the lead characters of the film. RED lacks engaging narration and misses several logics. The production values of RED are quite poor. The climax fails to make an impact. In outdated episodes, the poor presentation makes the second half of RED fall flat.
RED Telugu Movie Verdict:
Overall, RED is a suspense thriller that manages to have your attention from start to finish. Ram Pothineni is stellar as both Siddharth and Aditya. 
RED Telugu Movie Rating – 3/5.