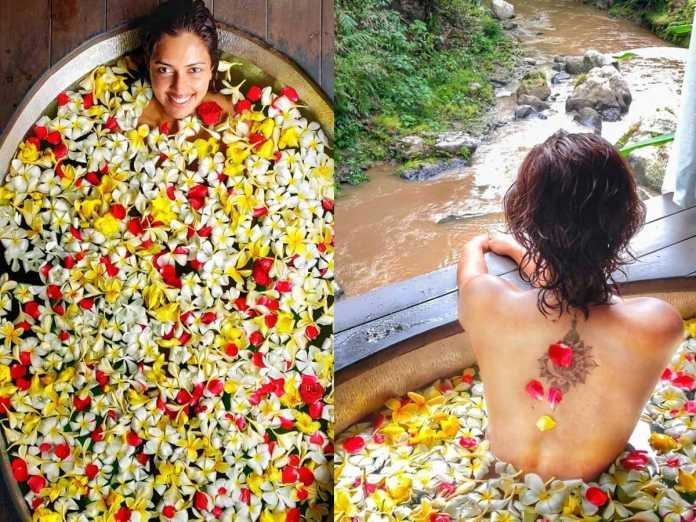 Actress Amala Paul Healing Bath Pictures Set the internet on fire, Currently, the actress is enjoying her holidays in Bali. Amala Paul took to her Instagram to share a pic of her where she is seen chilling in a bathtub and Amala Paul gets brutally trolled for sharing topless pictures from her Bali vacation. Amala Paul played one of the controversial characters named Kamini in her recent offering Aadai, for which she also went n*de in front of the camera. Now Amala Paul has landed in the bathtub.
The actress recently celebrated her 29th birthday in Bali with her boyfriend. She turned 29 on October 26 and is having a whale of a time in Bali. Actress Amala Paul is one of those actresses who constantly keeps in touch with her fans through social media. The actress, who is on a vacation in Indonesia, recently Instagram posted a set of pictures that have gone viral among netizens. a couple of pictures of her chilling in a bathtub overlooking the picturesque location. The pictures show her enjoying a flower bath in a bathtub.
Amala Paul, who is seen enjoying the scenic beauty of nature from her bathtub, added the caption, 'Sometimes you've got to pamper the Glowdess within you.' While several fans have come out praising the actress for her bold yet beautiful photoshoot, others were quick to notice the actress's latest tattoo. Though the pictures made her ardent fans go gaga and Amala Paul gets brutally trolled for sharing topless pictures from her Bali vacation by some netizens.
View this post on Instagram
On several occasions, Actress Amala Paul has been trolled by the netizens on social media sites for wearing glamorous outfits and she has been the victim of body-shaming on numerous occasions on Twitter, Facebook, and Instagram. Now, once again, Amala Paul is on the receiving end. Amala is attacked for sharing a backless pic on Instagram.
Her pic is receiving a positive response from her ardent fans, while a section of people is body-shaming using foul language. Few perverted people are asking her to share the photo of full-frontal n*dity pic and they are abusing her by using the cuss words. But Amala Paul Healing Bath in bathtub pic has got over 2 lakh likes in just 13 hours on Instagram.