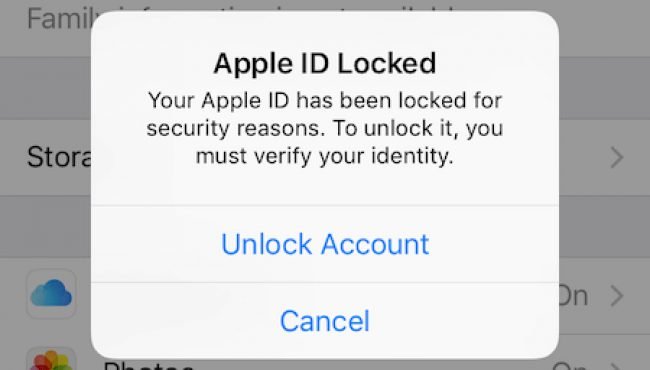 What If Your Apple ID Locked or Disabled; The pain of recovering Apple ID password is real as users don't use it often to remember it. The real trouble begins when you've tried multiple times and got locked out of your own Apple account. But what if Apple ID accounts got locked even without users' interference. It sure gets frustrating and that's exactly what is happening with some users. Several iPhone users have been complaining about online forums and social media platforms, including Reddit and Twitter, that they have been locked out of their Apple ID accounts without any clear reason.
Apple normally locks an ID for security reasons, especially when someone tries to login with incorrect password too many times. The iPhone users will be notified of the Apple ID account status with an alert in Settings, asking to "Update Apple ID Settings." Under normal circumstances, re-entering the correct password should get things back to normal, but several users are reported that their accounts have been frozen.
What If your Apple ID Locked or Disabled
If you or someone else enters your phone password, security questions, or other account information incorrectly too many times, your Apple ID automatically locks to protect your security and you can't sign in to any Apple services. You can unlock your Apple ID after you verify your identity.
If your Apple ID is locked for security reasons, you might see one of these alerts:
"This Apple ID has been disabled for security reasons"
"You can't sign in because your account was disabled for security reasons"
"This Apple ID has been locked for security reasons"
When you see one of these alerts, you can go to the iforgot.apple.com to unlock your account with your existing password or to reset your password. After multiple unsuccessful attempts to unlock your account, your Apple ID will remain locked and you can try again the next day.
If you use two-factor authentication, you need a trusted device or trusted phone number to unlock your Apple ID. And if you have a recovery key, you can use it to help you regain access to your account. If you see a message that is different from the alerts above and you can't reset your password, contact us for help.
After you change your password, you might need to update it in your iCloud settings and in any Apple services that you sign in to with your Apple ID. Learn more about your Apple ID and where you can use it. (What If Your Apple ID Locked or Disabled)