Vakeel Saab Movie Review: Power Star Pawan Kalyan and Shruti Haasan starrer courtroom drama Vakeel Saab Movie Review and Ratings get a Positive Talk from the Public and Critics. Vakeel Saab Movie casts Pawan Kalyan, Shruti Haasan, Anjali, Nivetha Thomas, Ananya Nagalla and Prakash Raj are in the lead roles along with Naresh, Mukesh Rishi, Dev Gill, Subbaraju, Vamsi Krishna, Anasuya Bhardwaj, Ananda Chakrapani, and many others are seen in supporting roles.
The Vakeel Saab Music composed by Thaman while cinematography is done by P. S. Vinod and is edited by Prawin Pudi. Venu Sriram is Directed by Vakeel Saab and is produced by Dil Raju under Sri Venkateswara Creations banners. Let's See Vakeel Saab Movie Review, Rating, Story, Hit or Flop Talk:
Vakeel Saab Movie Story:
Vakeel Saab, a remake of the Hindi film 'Pink', The core plot of Vakeel Saab Movie revolves around three girls – Vemula Pallavi (Nivetha Thomas), Zareena (Anjali), and Divya (Ananya Nagalla) who meet up with Vamshi (Vamsi) and his friends at the resort. Vamshi and his friends try to $exually assault the three girls and in order to escape them, Pallavi hits him with a bottle.
Vamshi who belongs to a political family files a backdated police case and gets Pallavi arrested and the ladies approach Vakeel Saab Konidela Satya Dev (Pawan Kalyan) comes forward to take the case on behalf of Pallavi, to fight the case against the powerful Nanda (Prakash Raj). Will Satyadev manage to bring justice to the three Girls? That forms the rest of the story.
Vakeel Saab Movie Review and Rating: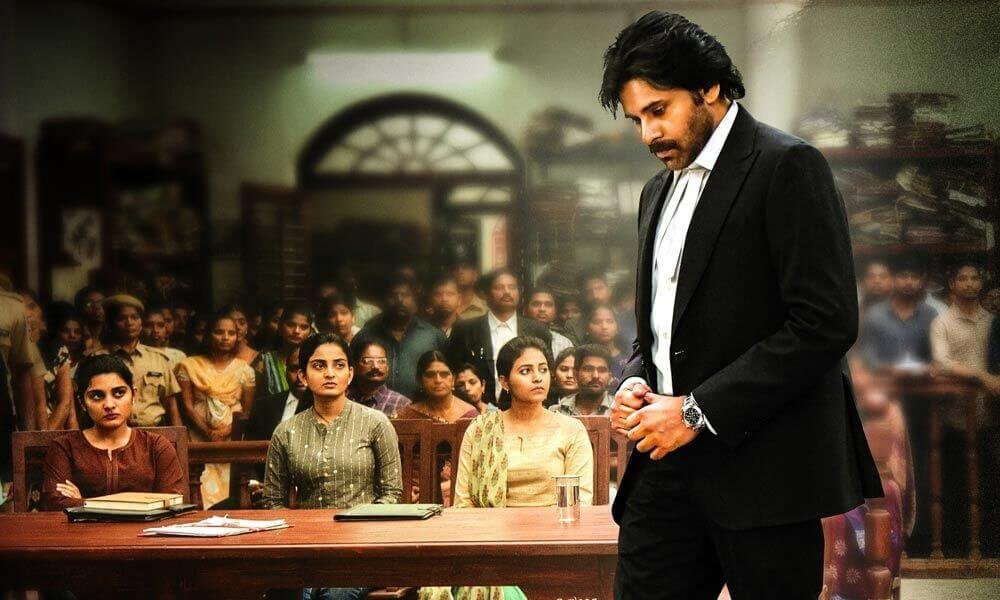 Vakeel Saab Movie Review:
Vakeel Saab film Starts with the song 'Maguva Maguva' which was superbly presented showcasing the three women from different backgrounds who's career aspirations lead them to Hyderabad. Vakeel Saab retains the core plot of the original and it starts off on the right note. Pawan Kalyan aka Satya Dev looks sharp and he is ably supported by Anjali, Ananya, and Nivetha. The interval bang is good and it has commercial appeal. The first half ends with a powerful action episode. Pawan Kalyan is back as a Vakeel Saab. INTERVAL.
The second half starts Prakash Raj enters the scene as the defense lawyer. He argues on behalf of the three men who are harassing the three ladies. Court scenes start now as Prakash Raj and Pawan Kalyan present their take on the case. The courtroom scenes are engaging. The social messages on how society views men and women differently for the same social cues, and how NO means NO is well emphasized.
While a few fan-appeasing elements and politically elevating references are added in, the movie mostly stays on the message. Pawan Kalyan's trademark comedy timing is working out pretty well and it is bringing freshness to the narrative. For those who already watched PINK, this film (Vakeel Saab) might not appeal emotionally the same way as the original. For the audience watching the movie directly for the first time in Telugu, this film is decent enough. On whole, Vakeel Saab Movie Review: Good Message Courtroom Drama with a generous dose of masala. 
Vakeel Saab Movie Hit or Flop Talk:
#VakeelSaab is the Powerful Hit Courtroom Drama ever made in Telugu.
Vakeel Saab Movie Verdict:
Overall, Vakeel Saab is an Emotional courtroom drama with a POWERful message and backing performances, Vakeel Saab lifts the film into the must-watch category!
Vakeel Saab Movie Rating: 3/5.
Vakeel Saab Movie Review and Rating [3/5] Hit or Flop Talk
Director: Venu Sriram
Date Created: 2021-04-09 02:09