Sri Reddy First Night with Abhiram Daggubati is Vanishing Soon: It was in April 2018, when Telugu actress Sri Reddy took the South film industry by storm when she made a shocking revelation about her alleged relationship with Abhiram Daggubati. Sri reddy blamed Abhiram for casting couch and claimed that he $exually exploited her. A few hours back, Sri took to her social media and made another shocking revelation about her alleged relationship with Abhiram Daggubati.
As per reports, Abhiram Daggubati's father and producer Suresh Babu, who is the owner of Ramanaidu Studios have decided to demolish it. Sri Reddy took to Facebook and shared that she has spent her first night with Abhiram in Ramanaidu studio. She wrote, "Where I had the first night with Abhi Ram in Ramanayudu studios that are vanishing soon."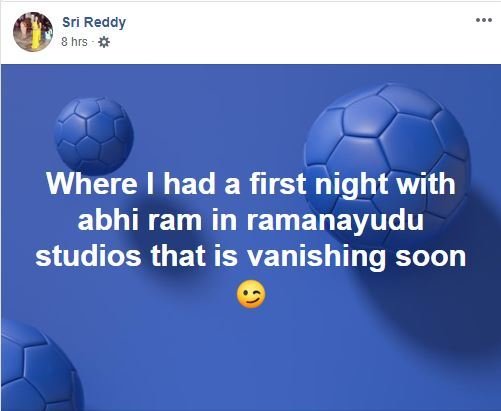 Here's Sri Reddy's post on Abhiram Daggubati: The studio was established in Film Nagar, Hyderabad by Rama Naidu and is named in the Guinness Book of World Record for producing the highest number of movies. In an interview with a Telugu TV channel, Sri alleged accused that Abhiram used to force her to have sex with him at a studio in Hyderabad. She said, "Suresh Babu's son cheated me so badly. The studio belongs to the government and it is meant to help and support talented people. They have to use it in a proper way. This Suresh Babu's son took me to the studio and f****d me so badly in the studio only."
Sri reddy made similar claims earlier also without mentioning Abhiram's name. "He used to take me to the studio and he used to f**k me. He is the son of a top producer who is ruling the Telugu film industry. He used to force sex on me. He would ask me to come to the studio and I said I will go only to talk, not for any $exual act. But after going there, he used to force me," said Sri Reddy, in an interview with India Today.