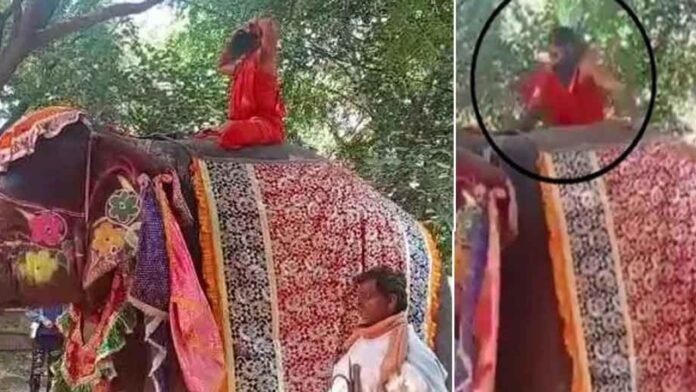 Yoga guru Ramdev Baba Falls off an elephant while performing a yoga asana on it and a video of the incident has gone viral on social media evoking funny responses from users. The Ramdev Baba Elephant Falls incident occurred on Monday at Guru Sharanan's ashram Ramanarati in Mathura. At the time of fall, Baba Ramdev was teaching yoga to saints gathered at the camp.
The 22-second viral video shows Ramdev Baba sitting on the elephant while performing a yoga asana. Just a few seconds into the video, the elephant moves which disturbs Baba Ramdev's balance and he falls to the ground. Baba Ramdev gets up immediately laughing. The Baba Ramdev falls off elephant video has garnered more than 20,000+ views on Twitter. Netizens had varied reactions to the video.
BREAKING: Baba Ramdev fell off from an elephant while doing Yoga on it, has sustained severe injuries in Spine, now admitted to Medanta Gurgaon.pic.twitter.com/1ec0IxFDLG

— Dr Nimo Chaudhary 🚩 (@niiravmodi) October 13, 2020
The Ramdev Baba Falls off video has been widely shared on social media, collecting several reactions ranging from shocked to amused. Many pointed to a similar incident in August when Ramdev Baba fell off a cycle while riding in the rain.
Loved the twist ending. pic.twitter.com/JNggkZVpV4

— Aniruddha Guha (@AniGuha) August 21, 2020
Ram Kisan Yadav, popularly called "Baba Ramdev", has been organizing large yoga camps since 2002. A popular television personality, he has set up several trusts, gurukuls, and foundations, and conducts yoga camps and classes throughout the world.