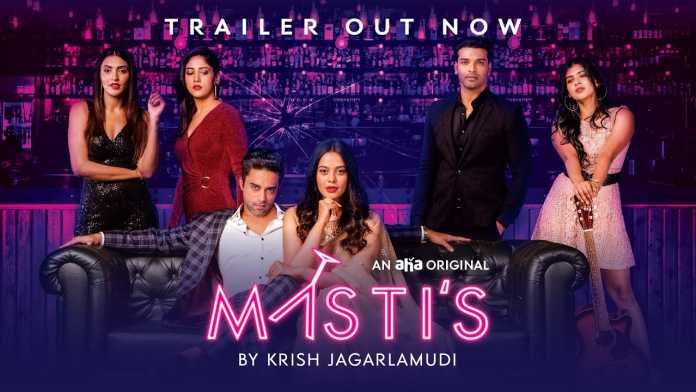 Watch Masti's Telugu Web Series All Episodes Online Streaming at Aha Originals. Aha App Masti's Telugu Web Series Starring Navdeep, Raja Chembolu, Bindu Madhavi, Hebah Patel, Chandini Chowdary. Masti's weaves a riveting tale as seven people from three contrasting worlds of various social statures mingle whilst setting off on merry misadventures and discovering love and friendship as they navigate through multiple pitfalls of work and life. (Locked Web Series)
Masti's Web Series Episode 1 – (Insomnia): On account of their wedding anniversary, Pranav decides to throw a surprise party for his wife. On the other hand, Anand's elaborate romantic proposal for Lekha goes in vain, and to add on, the rock band has more bad news.
Masti's Web Series Episode 2 (The Tasting Session): Chaos sets loose when a conflict threatens to break the rock band as Tanya and Bunty try to form a new band with their old friends. Anand is crestfallen and dejected over Lekha's refusal. While Pranav continues in his playboy way, Anand is shocked to see him with a girl.
Masti's Web Series Episode 3 (The Opening Night): While Gowri is all nervous for the opening night of Masti's bar, Pranav takes to his old ways with Lekha. Anand, heartbroken over Lekha, gets into a brawl with Pranav over her. Dinesh and Karthik, who were friends earlier, quarrel over dating the same girl, Tanya.
Masti's Web Series Episode 4 (Rock Paper Scissors): Lekha finds herself in a mess as she tries to hide her life-altering secret. Pranav and Simran get into an argument and angered Simran leaks the commercial. The client threatens to sue Pranav for the leak. The rock band is appreciated for their performance and asked to continue at Masti's.
Masti's Web Series Episode 5 (Crossing Lanes): At loggerheads, Kartik and Dinesh decide to screw the rock band's show. Constant rifts between Pranav and Lekha cause her to spill the beans about her and Pranav to his wife, Gowri. Pranav finds his life in a disorderly state as he faces scrutiny in both his professional and personal life.
Masti's Web Series Episode 6 (Broken Promises): Heartbroken and shocked after uncovering Pranav's dark side, Gowri decides to leave him and file for divorce. Tanya is distressed when her mother gets admitted to the hospital. Despite Tanya's constant attempts to sort things out between Karthik and Dinesh, she fails miserably.
Masti's Web Series Episode 7 (Mistakes and Choices): Karthik Joins back the band without any fellow members' consent, ends up in a brawl with Anand. Pranav tries to convince Gowri when she is drunk at Masti's, but he fails miserably. Anand gives a helping hand to Lekha, but she refuses differently this time. (Top 10 OTT Platforms in India)
Masti's Telugu Web Series Episode 8 (Detours and Destinations): Gauri wakes up at Bunty's bedroom with no idea about the previous night. Pranav retaliates the people who backstabbed him. Meanwhile, Anand takes care of Lekha's discharge from the hospital and city.