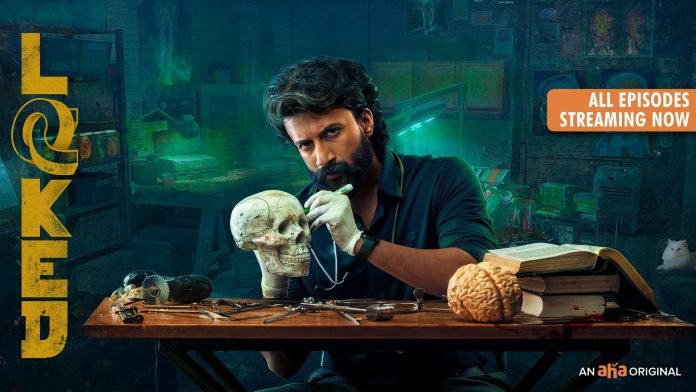 Watch Locked Telugu Web Series Online in HD Quality Streaming on Aha Originals. Locked Web Series Starring Satyadev, Samyukta, Sri Lakshmi, Aberaam Varma, Keshav Deepak, Bindu Chandramouli, Vasu Inturi, John Kottoly, Rishikanth and Directed by Pradeep Deva Kumar.
Locked Web Series Synopsis: Dr. Anand is a doctor who is specialized in neurosurgery. One rainy night a couple of robbers enter his home. At the same time a student of Anand, Avinash, who suspects Anand does something illegal, enters the house. Later a couple who have some trust issues enter the house to have a talk with Anand, and a policeman enters with them. The policeman suspects Anand and confronts him, only then these people learn that Dr.Anand is a psychopath. Now, all the people who entered the house have to escape the house for life. (Sin Web Series)
Locked Web Series Episode 1 (The Loot of a Lifetime): After a long shift at the hospital and saving a 7-year-old's life, Dr. Anand looks forward to unwinding at home. An old friend's unexpected self invite causes Amudhan to welcome two uninvited guests- Vaishnavi and Padmini. However, is Dr. Anand claims who he is?
Locked Web Series Episode 2 (Hired Guns): Vaishnavi and Padmini discover an unconscious body out of nowhere. Will a kindhearted stranger help them? Or will they be caught in the act of intentions to rob him?
Locked Telugu Web Series Episode 3 (Parched): With unannounced guests and their constant chatter, Anand is close to annoyance. But with a cop's inquisitive questions in the picture, Anand decides to be at his best behavior. Who are the uninvited guests? Is Anand up to something?
Locked Telugu Web Series Episode 4 (Euphoric-mind): The cop's constant efforts to confront Anand of suspected evil behavior doesn't cause any breakthrough. Anand reveals to be as innocent as ever. But Dr. Misbah and his wife find themselves in trouble as Anand realizes that they know too much. (Top 10 OTT Platforms in India)
Locked Telugu Web Series Episode 5 (The Demons calling): Anand's fight to keep the truth from making its way out reveals a mysterious man bound in solitary confinement. A few flashbacks from the past reveal something shocking about Anand's history and character.