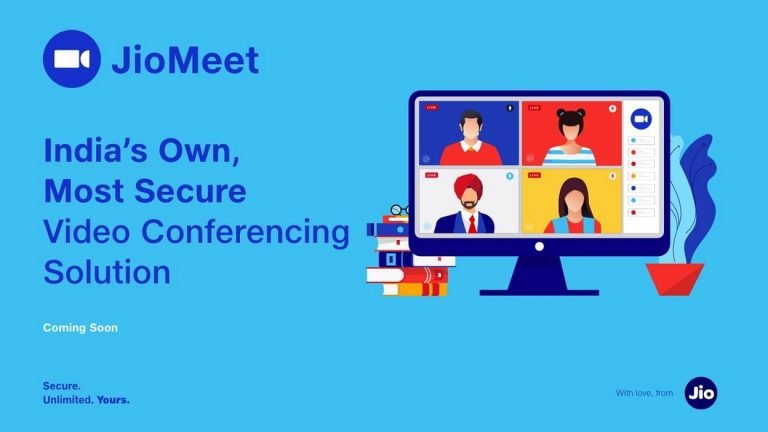 In today's fast-paced world, where communication plays a pivotal role in personal and professional interactions, video conferencing has emerged as a powerful tool. JioMeet, a cutting-edge video conferencing platform, offers a seamless and secure solution for virtual meetings, presentations, and collaboration. In this article, we will delve into the features, benefits, and key aspects of JioMeet that make it a top choice for individuals and businesses alike.
What is JioMeet?
JioMeet is a robust video conferencing platform developed by Jio, a leading telecommunications company. It allows users to connect and collaborate through high-quality audio and video calls, screen sharing, and real-time messaging. Whether you are hosting a business meeting, conducting a virtual classroom, or catching up with friends and family, JioMeet offers a comprehensive set of features to enhance your communication experience.
Key Features of JioMeet
JioMeet comes packed with numerous features that ensure smooth and efficient video conferencing sessions. Some of the key features include:
High-quality video and audio: JioMeet delivers crystal-clear video and audio, enabling participants to have a seamless communication experience.
Screen sharing: Share your screen with other participants to present slides, documents, or demonstrate software applications.
Real-time messaging: Instantly communicate with other participants through the built-in chat feature, allowing you to share links, files, and important messages.
Host controls: As a host, you have complete control over the meeting, including the ability to mute participants, manage screen sharing, and invite new attendees.
Recording and playback: Record your meetings for future reference and easily access the recordings for review or sharing with absent participants.
Virtual backgrounds: Add a touch of creativity to your meetings by choosing virtual backgrounds, eliminating background distractions.
Waiting room: Ensure meeting security by using the waiting room feature to control participant entry and avoid unwanted interruptions.
Live streaming: Stream your meetings live on popular social media platforms, allowing a wider audience to join and participate.
Breakout rooms: Divide participants into smaller groups for focused discussions or team activities, promoting effective collaboration.
Calendar integration: Sync your JioMeet meetings with popular calendar applications, ensuring easy scheduling and reminders.
Setting up JioMeet
Getting started with JioMeet is quick and straightforward. Follow these steps to set up your JioMeet account:
Visit the JioMeet website at www.jiomeet.com.
Click on the "Sign Up" button to create your account.
Provide the required details, including your name, email address, and password.
Once you have entered the required details, click on the "Sign Up" button to proceed.
You will receive a verification email. Click on the verification link to activate your JioMeet account.
After verification, you can log in to JioMeet using your registered email address and password.
User Interface and Navigation
JioMeet offers a user-friendly interface that makes it easy to navigate and access its features. The intuitive design ensures a seamless experience for both new and experienced users. The main elements of the JioMeet interface include:
Home Screen: Upon logging in, you will be greeted with the home screen, where you can start or join meetings, schedule upcoming meetings, and access your meeting history.
Meeting Room: When you enter a meeting, you'll find a clean and organized layout, displaying the video feeds of participants, meeting controls, and collaboration tools.
Meeting Controls: As a host or participant, you can access essential meeting controls such as muting/unmuting audio, turning on/off video, screen sharing, and managing participants.
Chat Panel: The chat panel allows real-time messaging with other participants, making it convenient to share links, notes, or important information during the meeting.
Settings: JioMeet provides customizable settings for audio, video, and general preferences, allowing you to personalize your conferencing experience.
Hosting and Joining Meetings
Hosting and joining meetings with JioMeet is a straightforward process:
Hosting a Meeting:

Log in to your JioMeet account.
Click on the "Start a Meeting" button on the home screen.
Customize the meeting settings, such as enabling or disabling video and audio, setting a meeting password, and enabling the waiting room.
Click on the "Start Meeting" button to initiate the conference. You can then share the meeting link or invitation with participants.

Joining a Meeting:

Open the JioMeet app or website.
Enter the meeting ID or click on the meeting link provided by the host.
If required, enter the meeting password provided by the host.
Click on the "Join Meeting" button to enter the conference.
Collaboration Tools
JioMeet offers a range of collaboration tools to enhance productivity and engagement during meetings. These tools include:
Screen Sharing: Share your screen with participants, allowing everyone to view presentations, documents, or any other content in real-time.
Whiteboard: Collaboratively brainstorm, draw diagrams, or annotate documents using the interactive whiteboard feature.
File Sharing: Seamlessly share files with participants, eliminating the need for separate file-sharing platforms or email attachments.
Reactions and Emoticons: Express your sentiments and engage with others using a variety of reactions and emotions.
Security and Privacy
JioMeet prioritizes the security and privacy of its users. Some of the security measures implemented by JioMeet include:
End-to-End Encryption: JioMeet ensures that all meetings are encrypted, protecting the confidentiality of your conversations.
Meeting Passwords: Hosts can set passwords for their meetings, preventing unauthorized access.
Waiting Room: The waiting room feature allows hosts to control participant entry, ensuring that only invited individuals can join the meeting.
Participant Management: Hosts have the ability to mute/unmute participants, remove disruptive participants, and manage screen-sharing permissions.
Integrations and Compatibility
JioMeet seamlessly integrates with various platforms and devices, expanding its usability and compatibility. Some notable integrations and compatibility features include:
Browser Support: JioMeet is compatible with popular web browsers such as Google Chrome, Mozilla Firefox, and Safari, allowing users to join meetings without the need for additional software installations.
Mobile Apps: JioMeet offers dedicated mobile applications for both iOS and Android devices, enabling users to host or join meetings on the go.
Calendar Integration: JioMeet can integrate with calendar applications like Google Calendar, Outlook, and iCal, making it easier to schedule and manage meetings.
Third-Party Integrations: JioMeet integrates with other collaboration tools and software, enabling seamless workflows and enhanced productivity. It can integrate with project management tools, document-sharing platforms, and more.
JioMeet Mobile App
The JioMeet mobile app provides users with the convenience of accessing video conferencing features on their smartphones and tablets. With the mobile app, you can:
Host or join meetings from anywhere, at any time.
Utilize the same powerful features available on the desktop version.
Experience smooth and reliable video and audio quality.
Seamlessly switch between different devices while in a meeting.
The JioMeet mobile app empowers users to stay connected and productive, even when they are on the move.
Benefits of JioMeet
JioMeet offers numerous benefits that make it a preferred choice for individuals and businesses:
Cost-Effective: JioMeet provides a cost-effective video conferencing solution, reducing the need for expensive travel and accommodation for in-person meetings.
Ease of Use: With its user-friendly interface and intuitive controls, JioMeet is accessible to users of all technical backgrounds.
High-Quality Video and Audio: JioMeet ensures superior video and audio quality, enhancing communication and collaboration experiences.
Security and Privacy: JioMeet prioritizes the security and privacy of its users, implementing robust encryption and access controls.
Versatility: JioMeet caters to a wide range of use cases, from business meetings and webinars to online classrooms and social gatherings.
Scalability: JioMeet can accommodate large groups of participants, making it suitable for both small teams and large organizations.
Reliability: JioMeet leverages Jio's robust network infrastructure, ensuring reliable and uninterrupted video conferencing sessions.
What is the use of JioMeet?
JioMeet caters to various use cases across different industries and sectors. Some common use cases include:
Business Meetings: JioMeet enables seamless collaboration and communication among remote teams, facilitating efficient decision-making and project discussions.
Educational Institutions: JioMeet supports virtual classrooms, enabling educators to conduct interactive lessons, host discussions, and share educational resources with students.
Webinars and Events: JioMeet provides a platform for hosting webinars, conferences, and virtual events, connecting presenters with a global audience.
Personal and Social Gatherings: JioMeet allows individuals to connect with friends and family for social events, and celebrations, or simply stay in touch across distances.
Tips for Effective Video Conferencing
To make the most out of your JioMeet video conferencing experience, consider the following tips:
Test your Equipment: Before joining a meeting, ensure that your camera, microphone, and speakers are working properly.
Choose a Suitable Environment: Find a quiet and well-lit space for your meetings, minimizing background noise and distractions.
Use a Stable Internet Connection: A stable and high-speed internet connection ensures smooth video and audio transmission.
Dress Appropriately: Dress professionally or according to the nature of the meeting to maintain a sense of professionalism.
Be Punctual: Join the meeting on time to avoid disruptions and maximize productivity.
Engage with Others: Actively participate in the meeting, ask questions, and contribute to discussions.
Maintain Eye Contact: Look directly at the camera to simulate eye contact with other participants.
Use Nonverbal Cues: Utilize hand gestures, facial expressions, and nodding to show engagement and understanding.
Mute Yourself When Not Speaking: To minimize background noise, mute your microphone when you're not speaking.
Optimize Screen Sharing: When sharing your screen, close unnecessary applications or windows to avoid distractions.
Take Breaks: If the meeting is long, schedule short breaks to allow participants to refresh and refocus.
By following these tips, you can ensure effective and productive video conferencing sessions using JioMeet.
JioMeet vs. Competitors
In the competitive landscape of video conferencing platforms, JioMeet stands out with its unique features and benefits. Here's how JioMeet compares to its competitors:
User-Friendly Interface: JioMeet offers an intuitive and user-friendly interface, making it easy for users to navigate and access its features.
High-Quality Video and Audio: JioMeet ensures superior video and audio quality, providing a seamless communication experience.
Robust Security: JioMeet prioritizes the security and privacy of its users, implementing encryption and access controls.
Collaboration Tools: JioMeet offers a comprehensive set of collaboration tools, including screen sharing, whiteboard, and file sharing.
Affordability: JioMeet provides cost-effective plans and pricing options, making it accessible to individuals and businesses of all sizes.
While there are other video conferencing platforms available, JioMeet's combination of features, performance, and affordability makes it a compelling choice.
JioMeet (FAQs) Frequently Asked Questions 
Here are some common questions about JioMeet:
Q1: Is JioMeet free to use? A1: Yes, JioMeet offers a free plan with basic features. There are also premium plans available with additional functionalities.
Q2: How many participants can join a JioMeet conference? A2: JioMeet supports large gatherings, allowing up to 100 participants in a single meeting.
Q3: Can I record JioMeet meetings? A3: Yes, JioMeet provides the option to record meetings, allowing you to review or share them later.
Q4: Does JioMeet offer mobile apps? A4: Yes, JioMeet offers dedicated mobile apps for iOS and Android devices, enabling users to join meetings on their smartphones or tablets.
Q5: Can I schedule meetings in advance with JioMeet? A5: Absolutely, JioMeet allows you to schedule meetings in advance and send invitations to participants.
Conclusion
JioMeet is a powerful video conferencing solution that offers a seamless and secure platform for virtual meetings, presentations, and collaboration. With its user-friendly interface, robust features, and commitment to security, JioMeet provides individuals and businesses with an efficient and convenient way to connect and communicate remotely.
Whether you're hosting a business meeting, conducting an online class, or organizing a social gathering, JioMeet's versatility and reliability make it an excellent choice. Its integration with various platforms and devices further enhances its usability, ensuring that you can join or host meetings from any location.
By following the tips for effective video conferencing and leveraging JioMeet's collaboration tools, you can maximize productivity and engagement during your meetings. Take advantage of features like screen sharing, whiteboard, and file sharing to foster collaboration and streamline communication.
In a rapidly evolving digital landscape, JioMeet stands out as a cost-effective and feature-rich video conferencing solution. Its high-quality video and audio, along with its emphasis on security and privacy, make it a preferred choice for individuals and organizations alike.
Don't miss out on the opportunity to experience the benefits of JioMeet. Get started today by signing up for a free account or exploring the premium plans to unlock additional features and functionalities.
Thank you for choosing JioMeet as your video conferencing platform. Stay connected, collaborate seamlessly, and make your virtual meetings more productive than ever before.