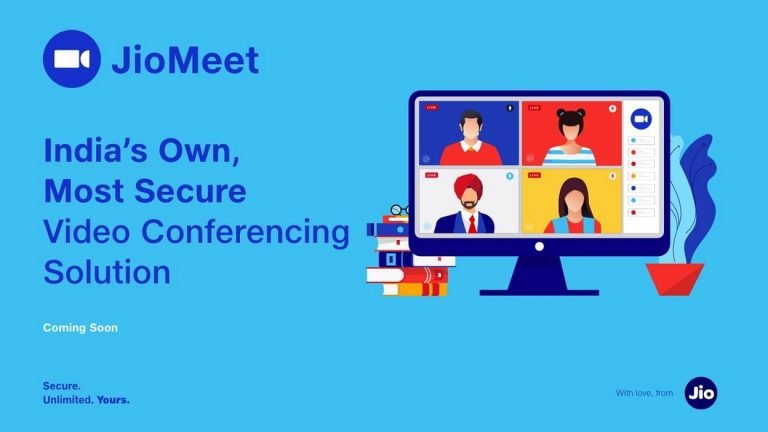 Mukesh Ambani's telecom company Reliance Jio launched JioMeet Video Conferencing App with little fanfare on Thursday night, and JioMeet App is already available on Google Play Store and Apple App Store. After a nonstop streak of funding updates, Reliance Jio has released its first new product, and it's entering the ring against Zoom, Google Meet, Microsoft Teams, and other popular video conferencing apps.
JioMeet Video Conferencing App supports direct calls (1:1 calling) as well as hosting meetings with up to 100 participants. As per Reliance Jio, the Jio Meet app offers enterprise-grade host controls. You can sign up with your phone number or email ID, and the meetings support HD quality. It's free to use and you can create unlimited meetings per day, and the meetings can also be password protected and support a waiting room like Zoom App.
How to Download the JioMeet app?
The JioMeet app is currently available on the Google Play Store and Apple App Store. To download the Jio Meet app – go to the App Store or the Play Store, search for JioMeet application, and download it. For desktop, you can visit this link and download the JioMeet application.
How to join a JioMeet call?
To join a Jio Meet meeting you will just need to click on the Join option on the home screen and enter the Meeting ID provided by the host. The platform provides an option to disable audio and video before joining the meeting. Notably, JioMeet App allows you to join a video conference even if you don't have an account with JioMeet.
How to start a JioMeet call?
Open JioMeet app or visit jiomeetpro.jio.com
Go to "Sign In" page
Click on "Company Domain" option
Enter your Domain ID/full email address
If you don't know your Domain ID, click on "I don't know my company domain" option –
> Enter your full email address
Click on "Continue"
You can read the FAQ section here. The section provides information on how to make a group video call, how to join a call, changing profile picture, and more.
JioMeet Video Conferencing App Features 
Easy sign up with either Mobile Number or Email ID
Meeting in HD Audio and Video quality
Create instant meeting and start inviting friends
Schedule a meeting in advance and share meeting details with invitees
Active Speaker view layout
Unlimited Meetings per day
Each meeting can go uninterrupted up to 24hrs
Each meeting is password protected
The host can enable 'Waiting Room' to ensure no participant joins without permission
Create Groups and start calling/chatting on single click
Share Screen and start collaborating
Use 'Safe Driving Mode' while driving
Use Jio Meet on Android, Windows, iOS, Mac, SIP/H.323 systems
Multi-device login support up to 5 devices
Seamlessly switch from one device to other while on a call.