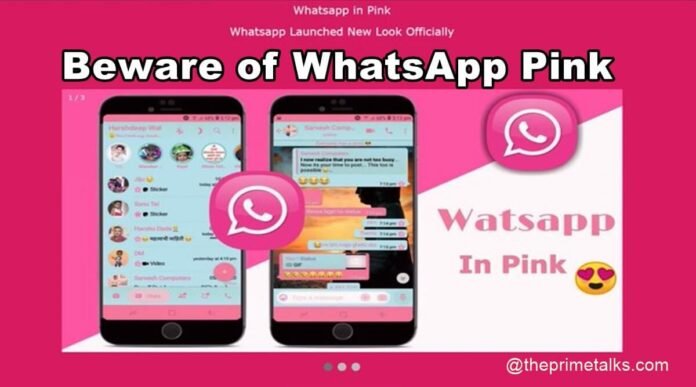 WhatsApp Pink Scam is in circulation as a malicious app that could steal your data once installed and allow hackers to gain access to your smartphone. A message has been sent to some users that contain a link and pretends to provide the existing WhatsApp experience in pink color and bring new features. However, instead of bringing any changes to the original WhatsApp installation, the link leads to a page with an option to download WhatsApp Pink on their phones. 
In a recent public advisory, the Mumbai Police have issued a warning about a WhatsApp message called 'WhatsApp Pink.' In their advisory, the officials have cautioned people about this new hoax associated with the platform and have urged them not to click on the fake link or download the Whatsapp Pink app.
"Once installed, the fake Pink WhatsApp app starts circulating a message that contains the link for its downloading. The aim of the hacker appears to collect user data of as many users as possible,"
In the world of instant messaging apps, WhatsApp reigns supreme with its user-friendly interface, end-to-end encryption, and extensive features. However, cybercriminals are constantly devising new ways to exploit unsuspecting users. One such attempt is the emergence of a threat known as WhatsApp Pink. WhatsApp Pink is a dangerous threat that aims to exploit the trust of WhatsApp users. By disguising itself as an official update, it can compromise your privacy and security. To protect yourself, always be vigilant and follow the recommended security practices. Remember, prevention is better than cure when it comes to cybersecurity.
What is WhatsApp Pink?
WhatsApp Pink is a malicious version of WhatsApp that disguises itself as an official update. It targets Android users and claims to offer exclusive features and a pink-themed interface. The allure of new features and a visually appealing design entices users to download and install this fake version of WhatsApp.
How does WhatsApp Pink spread?
WhatsApp Pink is primarily spread through malicious links and phishing campaigns. Users may receive messages from unknown contacts or within groups encouraging them to download and install WhatsApp Pink. These messages often promise enhanced functionalities or exclusive features, luring unsuspecting users into the trap.
What happens if you click on WhatsApp Pink links
The Mumbai Police warns that users who click on the fake whatsapp link could face various risks, such as:
Unauthorized use of their contact numbers and saved photos and videos
Financial losses
Misuse of their credentials
Spam attacks
The complete loss of control over their mobile device.
What if you already downloaded WhatsApp Pink? How to be safe from WhatsApp Pink Scam:
The police further share how WhatsApp users can prevent falling for the viral Pink WhatsApp scam. To enhance your protection against WhatsApp Pink, consider implementing the following measures:
First of all, immediately uninstall the fake WhatsApp if you have downloaded it on your phone. To uninstall, navigate to Settings > Apps > WhatsApp (pink logo) and uninstall it.
Always exercise caution and refrain from clicking on links received from unknown sources unless you have verified their authenticity.
Install or update apps only from the both official Google Play Store or iOS App Store, or from legitimate websites.
Do not forward any links or messages to others without proper authentication or verification.
Refrain from sharing your personal details or financial information, such as login credentials, passwords, OTPS, credit or debit card details, and similar information, online with anyone, as it can be misused.
Stay informed and vigilant about the activities of cybercriminals by keeping up-to-date with the latest news and updates in order to protect yourself from their attempts at fraud.
What are other WhatsApp Scams happening?
Many users have taken to Twitter to complain about receiving erroneous calls from overseas numbers beginning with +84, +62, +60, and other prefixes. Users are urged to use caution while answering or responding to texts or calls from obfuscated numbers.
WhatsApp Pink FAQs
1. Is WhatsApp Pink available for iOS devices?
No, WhatsApp Pink primarily targets Android devices. iOS users are not affected by this specific threat.
2. Can I remove WhatsApp Pink if it is already installed on my device?
Yes, you can uninstall WhatsApp Pink like any other app. Go to your device's settings, locate the app, and choose the option to uninstall or remove.
3. Are there other similar threats to be aware of apart from WhatsApp Pink?
Yes, cybercriminals are constantly developing new threats. It is essential to stay informed about the latest cybersecurity trends and employ best practices to protect yourself.
4. Can I recover my data if WhatsApp Pink steals it?
Unfortunately, data theft by WhatsApp Pink can lead to permanent loss of sensitive information. Regularly backing up your data can help mitigate the impact of such incidents.
5. Is WhatsApp Inc. taking any action against WhatsApp Pink?
WhatsApp Inc. takes user security seriously and regularly works to identify and combat malicious apps. They encourage users to report any suspicious activities related to WhatsApp Pink for further investigation.