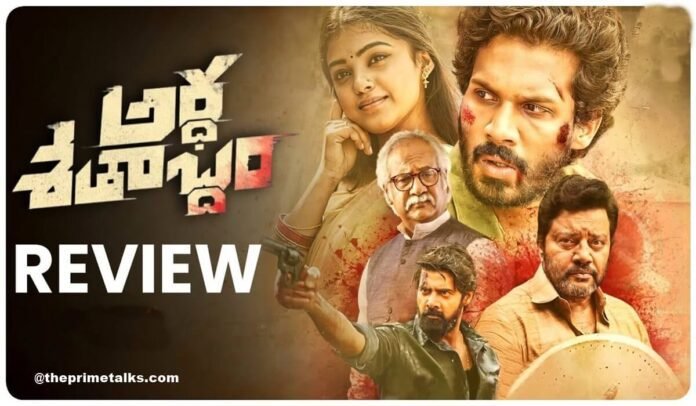 Ardha Shathabdham Movie Starring Karthik Rathnam, Krishna Priya, Naveen Chandra, Subhalekha Sudhakar, Sai Kumar, Amani, others and directed by Rawindra Pulle has Streaming Now on Aha.video. Let's Ardha Shathabdham Movie Review, Story, Rating, Verdict.
Ardha Shathabdham Movie Story:
Krishna (Karthik Ratnam), who works as an electrician in his hometown Sirisilla, always wants to go to Dubai and earn well. Young Krishna falls in love with a girl named Pushpa (Krishna Priya). But he is afraid to tell Puspa his love. On the other hand, even for small things in the village, the elders of the village are colored by caste and politics. In the same village, there is a flowering plant near Baba Kottu. Pusha likes the flower,
However, Krishna plans to cut out Pushpa's favorite flower and he wants to propose to her. But in the meantime.. that flower will be cut by someone. That would lead to clashes in the village. Who actually cut that flower? Did Krishna finally express his love to Pushpa? If you want to know that, you have to watch Ardha Shathabdham on Aaha OTT.
Debut director Ravindra Pulle blends caste politics, love drama, and action for this rural drama. But the director's experience in showing them was not enough. It is a bit strange to see the village scrambling for a flower. With that small point, the story can be twisted many times. The first half was all about liking the dark flower with one-sided love. 
The actual story starts in the second half and the caste angle is brought. But so many stories and fights are showed which are not even connected to the main theme. Just for the sake of convenience, caste-based fights are highlighted which was not needed at all and has no emotional connection.
Ardha Shathabdham Movie Verdict:
Overall, 'Ardha Shathabdham', is about a tale of how innocent lives are affected by caste-based fanaticism. If you are in a mood to watch a half-jovial, half-serious village-based live-action drama on Aha this weekend.
Ardha Shathabdham Movie Rating: 2.5/5.