Apple announced Apple Podcasts Subscriptions and Channels are now available globally Starting today and listeners in more than 170 countries and regions 1 can purchase subscriptions for individual shows and groups of shows through channels, making it easy to support their favorite creators, enjoy new content, and unlock additional benefits such as ad-free listening and early access directly on Apple Podcasts.
With active Apple podcasts subscriptions, listeners will see an updated page with a Subscriber Edition label to let them know of their access to premium content. Subscribers can get access to channels for their favorite podcasts and also get recommendations from the Listen Now and Browse tabs.
Apple Podcasts Subscriptions: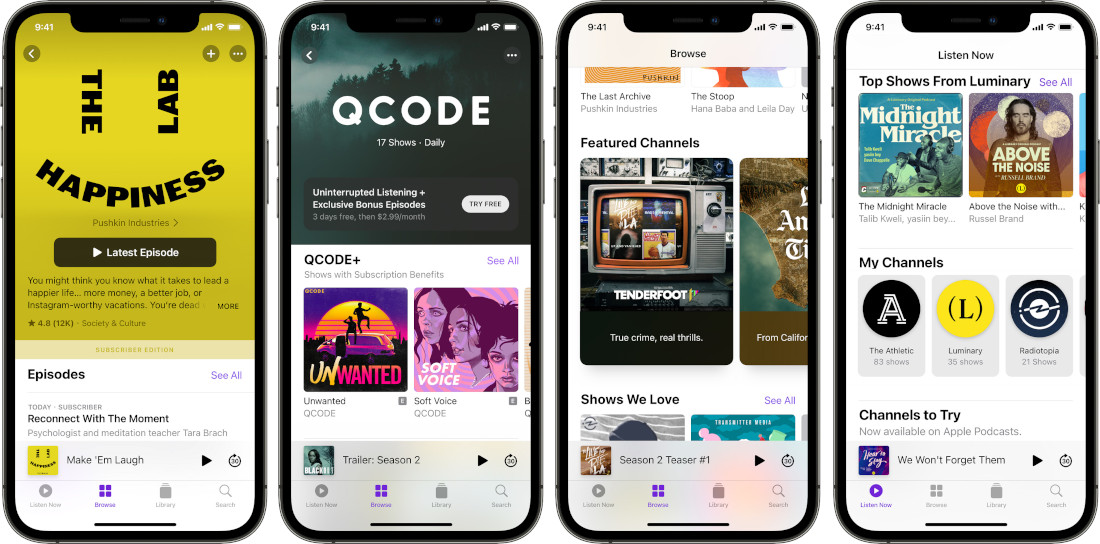 The Listen Now tab will get expanded with new rows that provide easy access to all of the content included in the channel and with their subscription. There will also be a new row called My Channels, where listeners can browse and follow all of the shows offered by the channels they follow.
To get the new Apple Podcasts Subscriptions and channels, users will be required to be on Apple devices running iOS 14.6, iPadOS 14.6, and macOS 11.4 or later. The cost of subscriptions will be up to the creator themselves, with options of monthly or annual payments, and each Apple Podcasts Subscription can be shared with up to six family members.