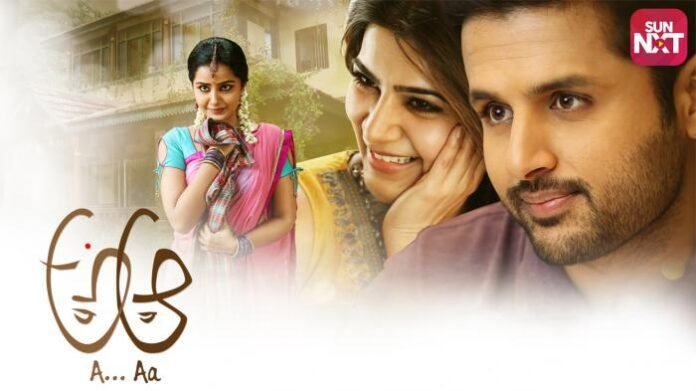 A Aa Movie Review Rating: Trivikram Srinivas's A Aa, starring Nithiin, Samantha and Anupama Parameshwaran, is the last big ticket film this summer. A Aa is tipped to be a clean family entertainer with plenty of Trivikram's trademark one-liners. During the promotions, Trivikram claimed that he worked on this film from ground zero, just like in his fledgling days as director. Let's see if the film can end the summer season on a positive note. 
A Aa Movie Review and Rating:
Trivikram carries his class streak after delivering a hattrick of family entertainers. His latest movie A Aa starring
Nithiin
and Samantha in lead roles has hit the screens today. Trivikram once again aimed at family audience with this small budgeted flick which is touted to be an out and out feel good movie. Lets see whether Trivikram is successful in his effort. 
A Aa Movie Story:
Anasuya, the only daughter of Mahalakshmi (Nadiya) and Ramalingam, attempts suicide as to get rid of her mom who restricts her from being herself. Luckily she survives and her dad Ramalingam sends her to her uncle's village Kalavapudi to revive from the incident. On her journey to the village Anasuya meets Anand Vihari and comes to know that he is her uncle's son. Having great time at her uncle's house she falls in love with Anand Vihari. But she knows that she must get back to her same old life once she returns to her house. Rest of the plot is filled with the issues between Anand Vihari and Pallam Venkanna (Rao Ramesh) and his daughter Nagavalli (Anupama Parameswaran) and also the hurdles faced by Anand.
Performance: Samantha gave her best in portraying the role of Anasuya Ramalingam. Nithiin has come up with a complete makeover and delivered a subtle performance. Nadiya did justice to her role but carries similar shades of her role in Attarintiki Daredi. Anupama Parameswaran pulled off her character well. Rao Ramesh impresses the audience with one more typical role of a countryman. His performance in the climax plays the major highlight of the film.
Positives:
* Climax and dialogues from climax.
* Nativity in the first half.
* Feel good characters, clean family movie.
* Situational songs that perfectly sync with the movie flow.
* Samantha's characterization.
Negatives:
* Comedy could have been better.
* Trivikram mark punches are missing (with the climax being an exception).
* Routine scenes from mid second half to climax.
* Anand Vihari's sister characterization in second half is not convincing enough
A Aa Movie Public Talk:
"A… Aa" has tried and tested love story, but the director's narration of story and some twists and turns make the film an interesting watch. Some romance, comedy and beautiful emotional scenes keep the viewers engaged and they are worth one's time and money spent on the flick.
A Aa Movie Verdict:
A Aa is a good film for families this summer. First half of the movie is a decent entertainer, while second half is routine. However, the climax will leave audience on a positive note. Though there is nothing great about this movie, the above average content aimed at family crowd will work at box-office. For the youth, we have Samantha at her career best. In the Overseas and in the "A" centers, "A Aa" movie will be a profitable venture for all involved. An easy watch in theatre. Enjoy the movie!!
Final Verdict: A Aa is a complete family film that carries a pleasant feel for two and a half hours. The characters in the movie perfectly suit the actors who respectively played them. Though the storyline is quite simple it is a Trivikram mark entertainer which gives a positive vibe even after leaving the theatres. 
A Aa Movie Rating – 3.5/5